BHUTAN TOURIST VISA
Citizens of India, Bangladesh and Maldives can obtain a permit at the port of entry on producing a valid passport with a minimum of 6 months validity.Indian nationals may also use their Voters Identity Card (VIC).  All other tourists must obtain a visa clearance prior to their travel to Bhutan.  Visas are processed through an online system by your licensed Bhutanese tour operator directly or through a foreign travel agent.
You are required to send the photo-page of your passport to your tour operator,who will then apply for your visa.  The visa will be processed by the Tourism Council of Bhutan (TCB) once the full payment of your holiday (including a USD $40 visa fee) has been wire transferred and received in the TCB bank account.  Once received, the visa clearance will be processed within 72 working hours.  At your point of entry you will be required to show your visa clearance letter, the visa will then be stamped into your passport.
Some of the important points to be considered while applying for Bhutan tourist visa are:
The Documents required for the Bhutan Tourist Visa is passport with clear face photo, and other information in passport.
Tourism Council of Bhutan requires full tour payment while applying visa/ and to approve the visa.
Dual passport holders are required to use the same passport whose details are submitted on to Bhutan for Visa authorization, prior to arrival in Bhutan.
It is mandatory for a tourist(except Indian/ Bangladeshi/Maldivian) to buy full service tour package from a local Bhutanese tour operator like us to avail Bhutan visa.
Bhutan visa fee is US$ 40.00 which is going to be included in tour cost submitted by us. Indian, Bangladeshis & Maldives nationals do not require visa for Bhutan.
The passport should have minimum six months of validity from the date of travel to Bhutan.
---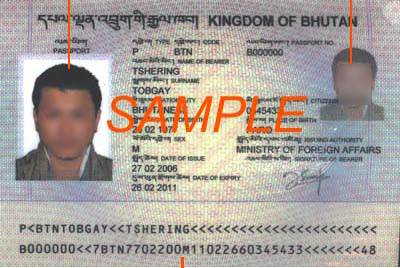 ---