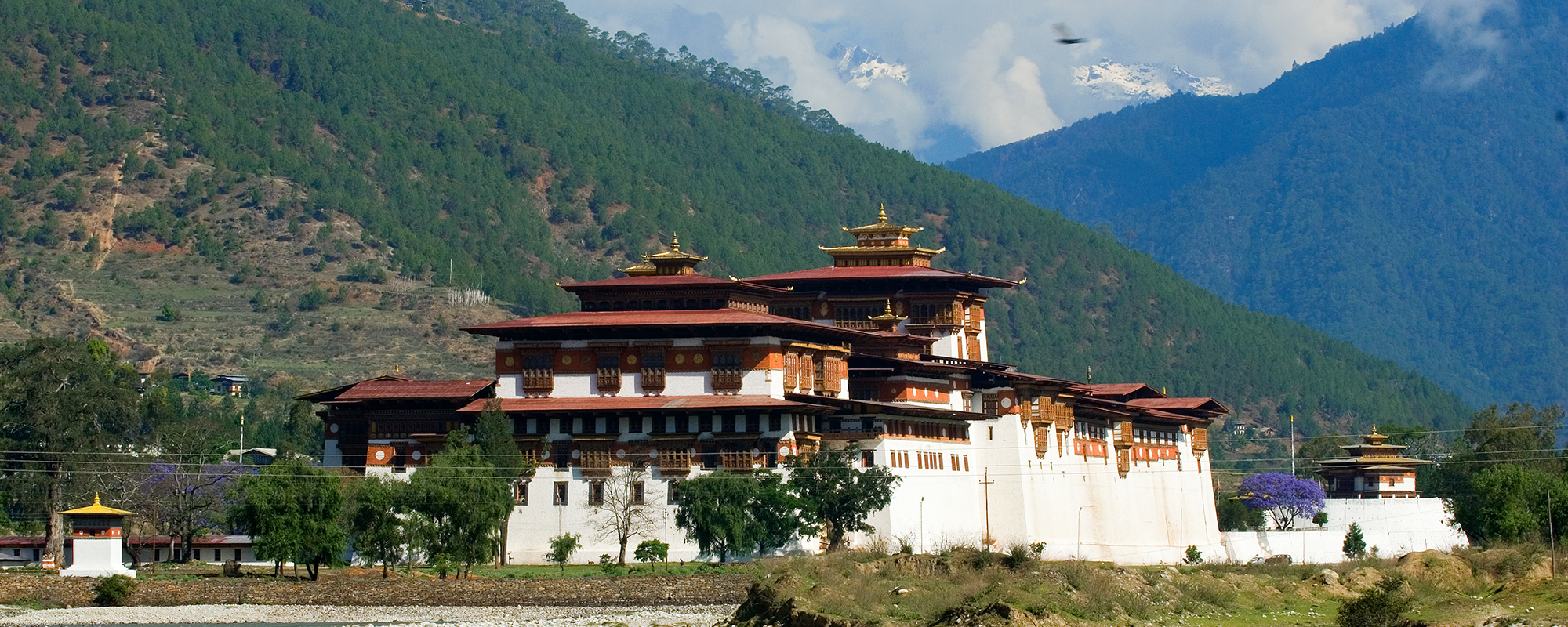 08 DAYS CULTURAL TOUR
Bhutan
Season:

Spring
Summer
Autumn
Winter
While Bhutan is one of the smallest countries in the world, its cultural diversity and richness are profound. As such, strong emphasis is laid on the promotion and preservation of its unique culture. By protecting and nurturing Bhutan's living culture it is believed that it will help guard the sovereignty of the nation. This tour will take you through various beautiful districts of Bhutan and each district will give you their distinctive and unique cultural Experience while also experiencing the beautiful scenery of Bhutan.
DAY 01: ARRIVE PARO AND TRANSFER TO THIMPHU (55 KM-1½ HOURS DRIVE)
Our representative will welcome you at the Paro Airport and then transfer to capital city Thimphu. This tour explores all of the highlights of important attractions of Western valley. On arrival at Thimphu, guide will escort to explore Memorial Stupa built in 1974 in the memory of Bhutan's third King, you will find people of all ages circumambulating and offering prayers. Next explore Buddha Point, where the tallest Buddha Statue stands and superb view point for Thimphu City. Then drive to Sangaygang to get a superb view of the whole Thimphu City. In the evening explore Trashi chhodzong "fortress of the glorious religion".  You could get a beautiful view from Outside .Tashichhodzong houses some ministries, His Majesty's secretariat, and the central monk body. If the arrival to Paro is during early hour, we could include few more sightseeing.
 DAY 02: THIMPHU TO PUNAKHA (70 KM-3 HOUR'S DRIVE)
Bhutan Tours take you to Punakha, The former capital of Bhutan. This place offers the perfect introduction of Modernity and History, Culture and Tradition, Legendary and the mythology. On the way after 45 minutes' drive from Thimphu will reach at highest pass between Thimphu and Punakha the place called Dochula Pass (3140m) where you can have a superb view of the Eastern Himalayas on clear day. On the way visit Chhimi Lhakhang a temple dedicated to the Devine Madman and a sacred place where people pray for children. We will also carry hot packed picnic lunch and enjoy at the side of the river at Zomlithang. This beautiful spot will add charm and interest to the tour. Visit Punakha Dzong a very beautiful Bhutanese architecture armed by the Pho Chu (Male River) and Mo Chu (Female River) rivers, built in 1637 by the unifier of Bhutan which houses some rich Buddhist collections.
DAY 03: PUNAKHA SIGHTSEEING
After breakfast hike to Khamsum Yuelley Namgyal Chorten. About 7km drive from Punakha Dzong and about 40 to 50 minutes hike from the road point through a beautiful terrace of paddy field is Khamsum Yuelly Namgyal Chorten which was completed in the year 1999 after eight years of construction. Located atop a hill commands a very beautiful view of the valley below.
It was built by Queen Mother and dedicated to the King and for the wellbeing of all sentient beings. It majestically located on a ridge, with amazing views of the country side. It is one of the finest Bhutanese architects. We could also drive till Sangchhen Dorji Lhundrup nunnery, where you could get the superb view of the valley below. The temple complex also has learning and meditation Centre for the nuns and it also provides them other trainings such as embroidery, tailoring, statue making, and the famous thangka painting. There is a majestic bronze statue of a height of 14 foot Avalokiteshwara.  The statue is also considered as one of the biggest statues in the country made by the unique handwork of many local Bhutanese artisans. We could also explore the serene ambiance and murals covering the walls and ceiling of Talo monastery which can be enjoyed throughout the year but to get an unhindered view of the surrounding valley March to May and October to November is considered the best time to visit Talo Monastery.
DAY 04: PUNAKHA TO PHOBJIKHA (70 KM-3 HOURS DRIVE)
Drive to Phobjikha would be thrilling journey as it is the place paradise for nature lover and hikers and also perfect destination for your tour. This place is also the winter home to black necked crane. Start with a visit to Gangtey Gonpa – an important monastery. From there, a beautiful nature trail winds down into the valley. As you amble down the trail, you'll come to the wetlands where the famed cranes reside in winter. If you're still feeling adventurous, the nearby villages, local monasteries, and farmhouses are worth a visit.
DAY 05: PHOBJIKHA TO PARO (195 KM-7½ HOUR'S DRIVE)
Drive back to Paro would be like travelling to second Switzerland. Paro has got to offer so many incredible features like Paro Museum an ancient watchtower, Paro Dzong perhaps the finest example of Bhutanese architecture as well as a local religious administrative Centre.
DAY 06: PARO –HAA-PARO (140 KM-6 HOURS DRIVE)
After early breakfast drive to Haa via   Chelela Pass to get a spectacular view of Jomolhari Peaks, Himalayan Mountain Peaks and Haa Valley. Then raise Prayer Flags on the hill top and windy area to lift up by the wind and carry our wishes for compassion, peace and healing around the earth. Prayer flags encourage us to live more mindfully and help us to restore our own inner calm. This spot and the activities give you the best opportunity to take Pictures. Next, further drive to Haa Valley catching the striking view of Himalayan Mountains, traditional Houses, Fascinating people, lovely farmland and farmers were working in their field. As you come across those lovely attractions, you may stop for a while and take good pictures of them. Haa Valley is a gorgeous place with peace and undisturbed environment. You could also taste their local food 'Haap Hentey', made out of flour with 9 ingredients of local species. On the same day drive back to Paro for next day hike to Tiger's Nest.
DAY 07: PARO, HIKE TO TIGER'S NEST (4-5 HOURS WALK ROUND TRIP)
Hike to Tiger's Nest would be like reaching the climax.   "Trip to Bhutan is never complete without climbing to Taktsang", says one tourist. Indeed it's true as the journey there fills you with spiritual bliss. Tiger's Nest is located atop an 800 meter cliff in Paro.  Taktshang or the Tigers lair as the monastery is widely regarded is one of the most important in Bhutan. Its history is associated with the visit of Guru Padmasambhava, the Indian saint who came to Bhutan in the 8th century AD. The cave was named Taktshang after Guru Rinpoche flew into the cave from Kurtoe Singye Dzong in eastern Bhutan riding on a tigress. On return explore the oldest and the most sacred Kichu Lhakhang.
DAY 08: DEPARTURE
Service Included
Bhutan Tourist Tariff Royalty & Visa fees.
All private excursions and transfers in superior air-conditioned vehicle.
Local English speaking trekking guide/tour leader.
Cook and camp hand who will take care of camp chores and provide wholesome meals.
Services of horsemen who will look after the yaks & ponies that transport luggage and camp gear.
Experienced driver.
Accommodation in carefully selected, highest standard government approved hotels & guesthouses
All meals in Bhutan.
All entrance fees and permits.
Service Excluded
All personal expenses such as bars, beverages, laundry, telephone.
Tips to guide and driver.
Medical / Travel Insurance.
Adventure and sport fees
Luxury Hotel cost
Contact us for your dream trip now !