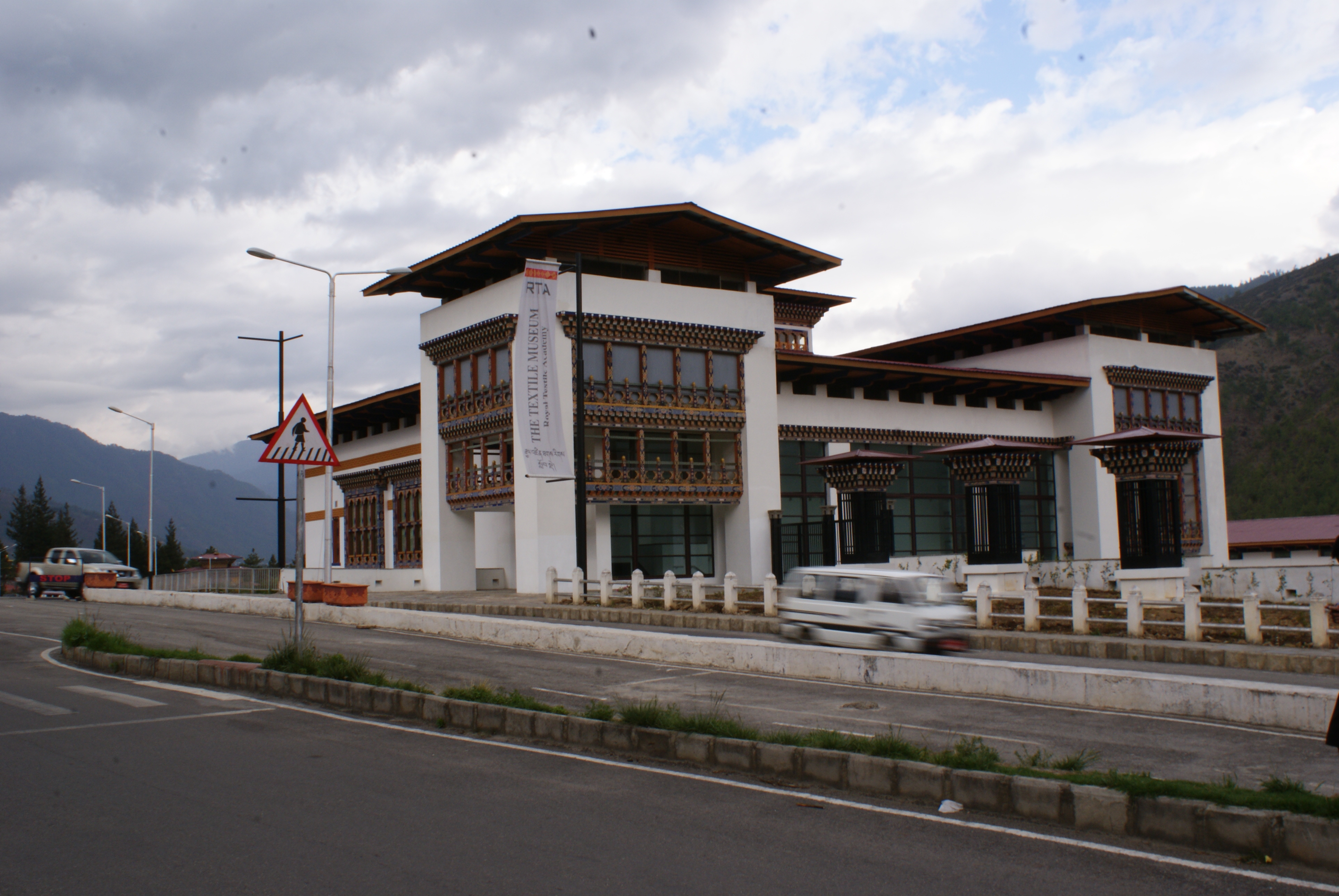 Overview
Weaving is an integral component of the culture and tradition of Bhutan. With the aim to preserve and promote this living art, the Royal Textile Academy of Bhutan was instituted in May 2005 under the patronage of Her Majesty Sangay Choden Wangchuk as a non – government and
nonprofit organization. The Royal textile Academy was registered as a civil society organization in line with the Civil Society Organization's Act of Bhutan 2007 on June 13 in 2011. The museum is designed in contemporary museum design. Her Majesty, the Queen Ashi Sangay Choden Wangchuk, inaugurated the National Textile Museum in 2001. Textile Museum at Thimphu has given a new platform to the nation's textile and Bhutanese weavers. The museum today has the vast collection of textile on display like Tsamdrak Goenpa, Crowns of Bhutan's King, Namzas (Dresses) and other accessories worn by the Royal Family, personal bedding of His Holiness Zhabdrung Jigme Dorji and the first version of the Raven Crown. The ground floor of the textile museum displays skills of making cloth such as spinning, coloring fibers, preparing a loom, and a manipulating two sets of yarn. It also displays decorative fabrics produced by Bhutanese Weaver. National Textile Museum has six categories exhibition on displays as following: achievement in textile arts by Bhutanese, role of textiles in religion of Bhutan, textiles from indigenous fibers, the royal collection, and warp pattern weaves and weft pattern weaves. The Royal Textile Academy is categorically divided into weaving Academy, textile museum and textile conservation museum. The weaving academy trains student in traditional weaving, the art of yarn dying, contemporary skills related to design and color combination and also basics on business and book keeping and skills. As of June 2016, the eleven batches comprising of more than 200 trainees have completed their training from the school. Each training spans over a
period of three months and the trainees are taught plain cotton and silk weaves known as Yathra.
The second category of Royal Textile Academy's second category, textile museum is responsible for exhibiting and displaying the collection of artifacts to further the understanding of Bhutan's rich textile and traditions and way of life. The museum consists of two galleries. The upper gallery which has a permanent displays of the various types of textiles in the country and the lower gallery showcases temporary exhibitions on special them. The museum has lost of exhibition conducting every year since its establishment. The textile conservation centre is responsible for practicing and imparting internationally accepted methods and techniques of the conservation and preservation of the priceless textiles and other artifacts. The conservation centre has not only been responsible for the preservation and conservation of our artifacts but also provided the services to restore many textile pieces from several Dzongs and monasteries. Today, the museum is amazingly offering the visitors especially the tourist, the very detail insight about Bhutanese Textile through exhibition, display and demonstration. The beauty of Bhutanese textiles is appreciated all over the world.