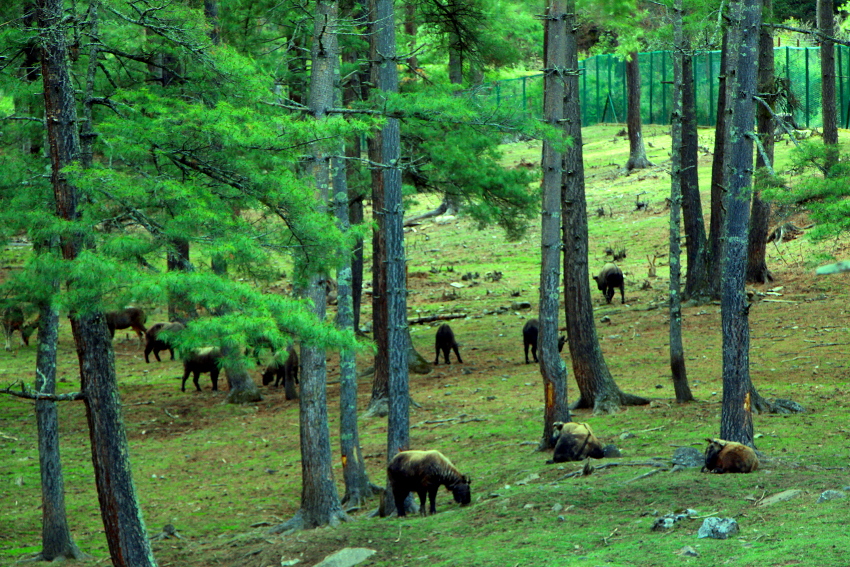 TAKIN PRESERVATION CENTER
Overview
Takin Conservation Centre is located two kilometers above the Thimphu Town or just above Motithang Town, in a pine forest. Takin is the national animal of Bhutan and it is one of the endangered and rare animals in the world. The center though look like zoo with several animals like deer and reindeer, it is the Takin Conservation Center. The present zoo was originally small zoo but later it was converted into a preservation center of Takin when it was discovered that the animals refrained from inhabiting the surrounding forest even when set free.
The reason for takin adopting as national animal of Bhutan was due to animal's attribution with a legend of the animal's creation in Bhutan in the 15 th century by Lama Drukpa Kuenley. The local mythology related to declaring Takin as The National Animal of Bhutan is dated back to 15 th Century. A Tibetan saint by the name of Drukpa Kuenley, popularly known as "Devine Madman" is credited with creating Takin with unique features. Drukpa Kuenley, who was religious preacher ones was requested by the people to conjure a miracle before them. The saint
agreed to do so provide he was fed for lunch, a whole cow and a whole goat. Once served, devoured the food of both animals and left out bones. He then took out the head of the goat and fixed it to the skeleton of the cow and uttered some prayer and magic worked. The animal came alive and today it is known as Takin with goat head and cow body. Today, the center has more than twenty Takin of both genders along with few other animals. One can take close look at the Takin at Takin Preservation Centre.