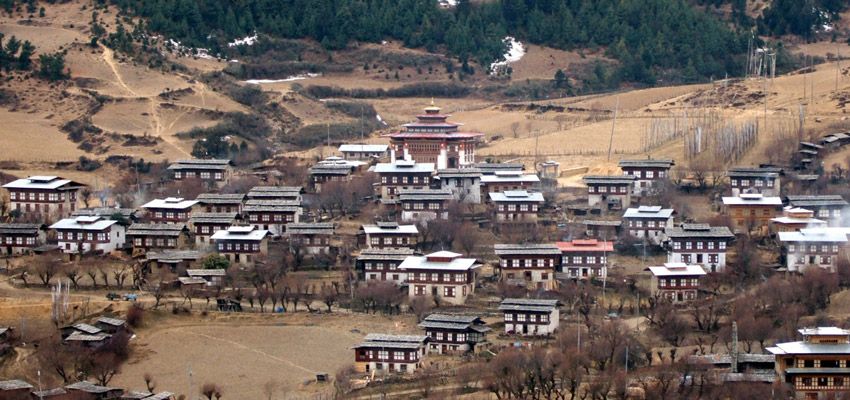 Overview
Ura valley lies at an altitude of 3100 meters above sea level. It is about one and a half hour drive from Jakar towards East. It is one of the highest of Bumthang valleys and believed to be the home of the earliest inhabitants of Bhutan. The village has a cluster of around 50 whitewashed houses that are typical in the countryside and in the Centre of the village is the sacred and interesting temple. The temple was built in 1986. The two-storied high temple is constructed in traditional Bhutanese style and is dedicated to Guru Rinpoche (Padmasambhava). The temple contains remarkable paintings done by local painters in the two main sanctuaries. They illustrate the great religious cycles of the Nyingmapa school of Tantric Buddhism and the main statue is a two-storied high clay representation of Guru Rinpoche.
As the villagers are dependent on livestock breeding and cultivation of crops, the houses are designed to accommodate them. The houses are normally consisting of two or three levels. The ground level is used to house the animals, the second level is the living quarter of the family, and the third level is storage for their crops. Yakchoe festival and dances takes place in the courtyard of this temple showcasing the statue only during this festival or once in a year.
The valley also gives a scenic day hike called Ura Valley Hike. It is known for its spectacular landscapes and quaint ambience. Passing through the farm house and scattered houses can provide opportunities to interact with people and to explore and learn of its charming village.